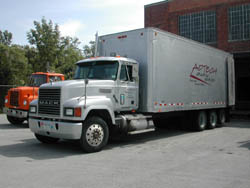 Ad Tech Graphic Service is operated as a Service business dedicated to supplying creative solutions to the production requirements of Printers, Book Binders, and Print Finishers.
In addition to Production Consulting Services, Equipment Appraisal Services, and Machinery Moving/Rigging and Re-Installation Services, We offer:

New and Used Binding, Finishing and Packaging Equipment
Used/Reconditioned - Offset Press Equipment
Maintenance/Service for our equipment customers
AdTech was started in 1985 as a part time venture in conjunction with our liaisons with manufacturers, dealers and distributors of Printing and Binding equipment. Today, our people have experience and backgrounds with many of the major manufacturers of press and bindery equipment, as well as years of actual production experience in the pressroom and bindery. This allows Ad Tech to offer a great deal of knowledge and capability in dealing with the production needs of our Customers.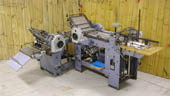 We are constantly searching for, purchasing and reconditioning equipment in our shop facilities in Batavia, New York. While many pieces of equipment that we have available are specialty machines, we also routinely process Presses, Cutters, Folders and both Perfect Bind and SaddleStitch Book Binding Equipment. Many times we find a customer with the need for a specific piece of equipment that we may not have "in stock", so we have developed many contacts and sources that allow us to quickly locate and procure equipment on an "as needed' basis.
As we move into and through the 21st Century, a great deal of our efforts will be toward being able to supply many of our equipment solutions as NEW equipment, rather than used equipment as our past business has been. Consequently, we have become the area Dealer/Distributor for New PRISM and SABER Guillotine Cutting Equipment, New KNORR Bindery Material Handling Systems, PRINTING RESEARCH Drying and Anti-marking "SUPER BLUE Systems, MARKWITH Roll Processing Equipment, BOLMET Packaging Materials and Machinery, BELCO Shrink Wrap and Blister Seal Equipment, and ROSBACK and FENNIMORE Stitching, Collating and Specialty Finishing Equipment. We are also currently in discussions with manufacturers of other Press and Bindery Accessory equipment, to allow us to have a well rounded stable of New equipment to offer our customers.
Our GOAL, is to become THE answer to the needs of our regions' Printers and Finishers, Whether fulfilling that need, takes the form of Consulting Services alone, [leading perhaps to a "non equipment solution" or even an equipment solution not supplied by Our firm], takes the form of Equipment Appraisal Service, or takes form as Supplying the right piece or package of production equipment - Ad Tech Graphic Service's aim is to have THE solution for our customer.
What ever your need might be, rest assured that if We are given the opportunity to work with you, that together our businesses will grow and prosper.